Acts 2:42-47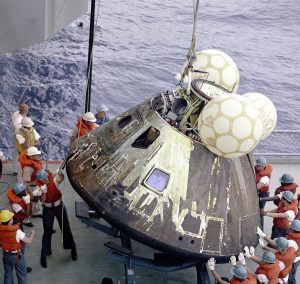 On April 11, 1970, 3 men set off on an adventure. They were the Apollo 13 crew, and their adventure was to be the 3rd manned moon-landing. Their spacecraft looked like this drawing. The main module, the Odyssey, was designed to be their home for the journey to and from the moon, and attached to that was the lunar module Aquarius, that would allow two of them to land on and lift off the moon.
A little over two days into the flight, they contacted NASA with these now famous words: "Houston, we have a problem" Now, that that turned out be something of an understatement. What they'd had was an explosion. Exposed wires had set off an explosion that destroyed one oxygen tank and damaged a second.
They still had enough oxygen to breathe, but those oxygen tanks were also used to power the fuel cells in the main craft. With those tanks gone, the fuel cells would be increasingly depleted to the point where the crew would never be able to make reentry into earth's atmosphere.
They realized that if they could power down the Odyssey and move into the landing module they just MIGHT make it home. But that created another problem. The landing module wasn't designed to hold 3 men that long. So, CO2 remained the biggest issue.
You Betcha!

(

6

)
Nuh Uh.

(

1

)