Seat Belt Oppression Stepped Up
By JGillman, Section News
Posted on Fri May 24, 2013 at 10:01:16 AM EST
Tags: Michigan, Click-it, Abuse, Seat Belts, Allegan, Berrien, Calhoun, Chippewa, Delta, Eaton, Genesee, Grand Traverse, Houghton, Ingham, Jackson, Kalamazoo, Kent, Livingston, Macomb, Marquette, Monroe, Muskegon, Oakland, Ogemaw, Ottawa, Saginaw, St. Clair, Van Buren, Washtenaw, Wayne, Jack Boots (all tags)
One of the long running abuses of government is being stepped up as is normal at this time of year.
Possibly the most in-your-face government nanny state BS to ever grace a televised Tiger game is LIVE this weekend. Seat belt enforcement zones in effect through Memorial Day
".. law enforcement officers from 155 agencies will be conducting safety belt enforcement zones in 26 counties across the state through June 2.

..

Agencies in the following counties will have extra officers out enforcing the state's seat belt law during the Click It or Ticket campaign: Allegan, Berrien, Calhoun, Chippewa, Delta, Eaton, Genesee, Grand Traverse, Houghton, Ingham, Jackson, Kalamazoo, Kent, Livingston, Macomb, Marquette, Monroe, Muskegon, Oakland, Ogemaw, Ottawa, Saginaw, St. Clair, Van Buren, Washtenaw and Wayne.
Good places to avoid if driving sans the safety harness.
Annoyance at this program stems not so much from a common sense application of the tools used to protect passengers of automobiles, but rather the steamy breathed way it is presented as LAW. And that we pay for those ads. (perhaps legislators could look at funding that drives that type of inane garbage?)
YOU WILL PUT YOUR BELT ON, MAGGOT!
But that isn't entirely all of it either. Go below for more..
Seat belt enforcement laws and especially zones create other problems for motorists and particularly in the realm of the constitution.
I have written before
on the nature of its opening the door to 4th amendment violations:
"The police can now stop you based on the suspicion, or "stated suspicion" that you weren't wearing a seatbelt. This allows them access to your private possessions (your vehicle etc.) without due process.
You have nothing to hide right?
You don't have to. Abusive and intrusive government hides easily under the guise of protecting folks from themselves. For the good of their families, to keep insurance costs low .. (oh shoot - what about that silly ol helmet law hypocrisy)
because government cares.

And while the jack boots are out in full force this weekend to protect you by putting a gun to your head and forcing you to wear your safety apparatus, I'll leave you with this image from 4 years ago. At the time, cell phone use was as-yet untouched legislatively.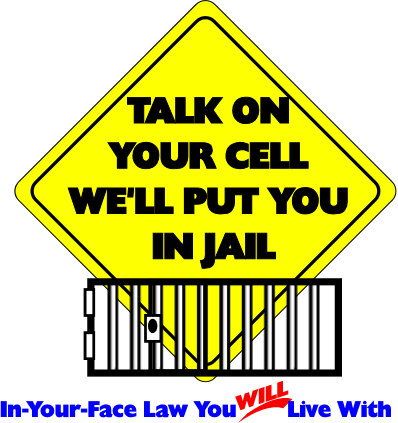 Have a safe weekend.

Seat Belt Oppression Stepped Up
|
10
comments (10 topical, 0 hidden)
Seat Belt Oppression Stepped Up
|
10
comments (10 topical, 0 hidden)