Michigan Law Enforces Obama's Latest 'Pen and Phone' Gun Control With Draconian Penalties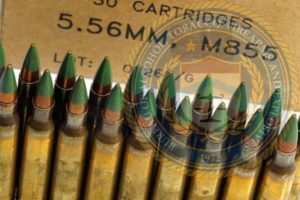 It turns out that the stealth U.S. Bureau of Alcohol, Tobacco, Firearms, and Explosives proposal to prohibit the most popular cartridge used by civilians in the AR-15, America's most popular civilian rifle, will be enforced by draconian penalties in Michigan law. This prohibition will affect all owners of .223 Remington caliber rifles, not just the AR-15. BATFE has indicated that they are withdrawing a 'sporting purpose' exemption for the standard issue U.S. Military 5.56x45mm NATO (.223 Remington) cartridge, claiming that it is armor piercing handgun ammunition under the 1986 Law Enforcement Officer Protection Act.
Michigan legislators cloned LEOPA in 1990 with one important distinction. The Michigan statutory language actually prohibits any use of prohibited ammunition. From MCL 750.224c:
(1) Except as provided in subsection (2), a person shall not manufacture, distribute, sell, or use armor piercing ammunition in this state. A person who willfully violates this section is guilty of a felony, punishable by imprisonment for not more than 4 years, or by a fine of not more than $2,000.00, or both.
'Use' includes loading a rifle magazine with prohibited ammunition or even firing it in a single shot rifle. The Federal LEOPTA at least allows gun owners to use up stocks of ammunition on hand when a cartridge is prohibited. A bunch of Michiganders are about to become felons if BATFE gets its way thanks to another triumph of legislative draftsmanship by our Legislature. Violating MCL 750.224c is a four year felony, a rude surprise to someone owning M855 ammunition. Perfectly legal one day, a felon the next. The joy of multilevel government regulation.
You Betcha!

(

21

)
Nuh Uh.

(

0

)