What is an Article V Constitutional Convention and why did the Michigan Legislature apply for it?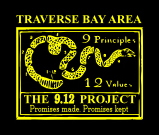 In recent months, there has been an interesting divide in conservative politics on the efficacy of holding an Article V constitutional convention.
Points have been made vigorously on both sides of the issue. Some argue that an article V could get out of hand, while others see it as a way to harden  constitutional principles firmly with specific goals.  The fact is, that average Joe hasn't a clue of what it entails, what the risks are, or what might be unexpected outcomes.
Here is an opportunity to hear both perspectives presented in a debate format among good friends; each, who are solidly on either side of the question.
You Betcha!

(

7

)
Nuh Uh.

(

0

)